Home > News > Launch of unique Zeppy Speaker made with recyclable ARPRO

Publication date: 25.11.2020
Launch of unique Zeppy Speaker made with recyclable ARPRO
Zeppy Sound Buddy is unlike any other speaker. Zeppy is portable, waterproof, buoyant, lightweight and robust. Zeppy gives you an incomparable sound with the latest technology and an incredible battery life (perfect for off-the-grid adventures).
Driven by the vision to create new solutions for exceptional user and sound experiences, Zeppy was designed and engineered with a completely new approach in design and materials, resulting in seven submitted patents. The housing of the speaker uses ARPRO, which consists of 96% air making it extremely lightweight and floatable. ARPRO is primarily used in automotive applications to improve vehicle safety and is able to withstand multiple impacts without damage. This makes Zeppy very robust.
Jens Grunwald, Sustainability Product Manager for Europe, Africa and Middle East, said: "ARPRO was the answer to many of the design questions Zeppy were asking. ARPRO provides an exceptional combination of properties, its high strength-to-weight ratio means that it provides an extremely strong, durable yet lightweight solution, and it's recyclable."
Zeppy goes beyond expectations. Most speakers lose significant sound quality when submerged in water but Zeppy's flat panel membrane delivers full-bodied stereo sound with no distortion. Zeppy's unique design and the housing material made from ARPRO transmits vibrations through the water allowing the user to literally feel the music! Zeppy is also available in a recycled version using ARPRO 35 Ocean. ARPRO 35 Ocean is made with 15% recycled maritime industry waste content such as fishing nets and ropes, which gives its unique colour. During the production of ARPRO 35 Ocean 7% less CO2 is produced when compared with virgin material.
Zeppy is the only loudspeaker in the world that allows a deaf person to perceive music through vibration, connecting to a hearing person in real time. This is made possible by the near-field sound characteristics and the additional "bone conduction transfer" of sound. Zeppy also benefits people with autism by providing a positive mood change by simply touching the music. "The sound of Zeppy is much more than what you would expect from a portable speaker, but "how" you experience sound is extraordinary," said founder Rafael Kubisz.
Zeppy is available to purchase now from their online store and a number of other online shopping websites www.zeppy.com

For more information about ARPRO and ARPRO 35 Ocean, please visit www.ARPRO.com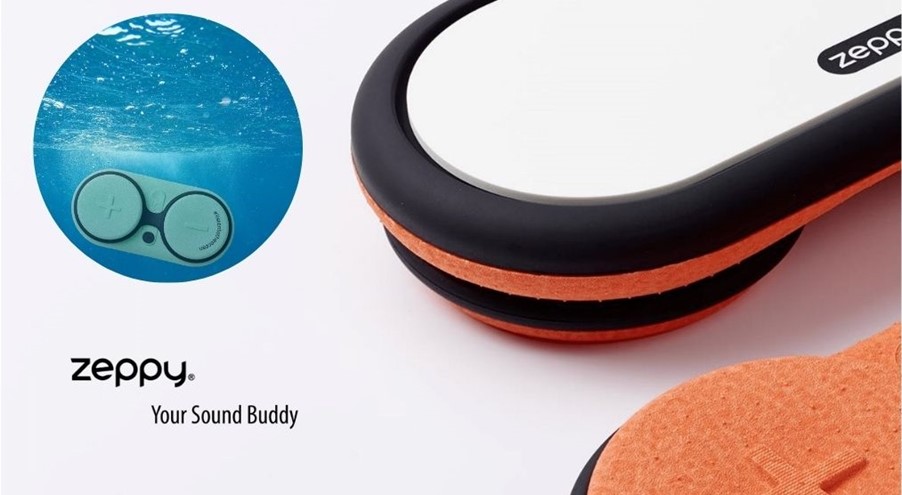 Figure 1 Zeppy Sound Buddy
About Zeppy
Based in Austria, Zeppy's team works with the excitement of creating new audio products in combination with new materials. Zeppy is the brainchild of Rafael Kubisz: music lover, inventor of the first solar speaker and red dot design award winner. Through a collaboration with designer Johannes Scherr and partners in Germany, Hong Kong and Florida, Zeppy was born.
Contact
Jürgen Reichl
ZEPPY GmbH
juergen@zeppy.com
+43 664 621 5207
About JSP
JSP is a specialist in thermoplastic foams delivering ARPRO for automotive applications, HVAC, transportation, sporting goods and more. JSP is the only company with a global presence in research, development and production in the field of expanded polypropylene particle foams. The company is active with innovations to make products safer, lighter, cheaper and more sustainable.
Contact
Samantha Nugent
Marketing Strategist
JSP
samantha.nugent@jsp.com
+44 787 635 2862